Hello.
This is going to be an exploration of my universe...The city of Auda. I'mma throw a disclaimer at you. THE FOLLOWING POST IS WICKED HUGE. HOWEVER, IF YA'LL MAKE THIS GORGEOUS...YOU MAY GET A CHARACTER NAMEDROP IN TEH BOOK.
This is basically going to be a city study. Like...how it operates. You are all civilains in this crapsack world.
I am going to go ahead and supply you with some elementary knowledge, and then throw a character sheet at you. It may become fairly involved, and for that I apologise. Auda...it's a freaky place.
Auda is a city on the planet Erf, which resides in a universe just barely rubbing ours. Well...really, It's just rubbing our internet. Same difference.
A BRIEF OVERVIEW:
Auda is an internet dominated city, run by the dictator Mr.Face. Near the heart of the city, The great Audian Duct Tape Riot is in full swing, with fires burning constantly. There is famine...poverty...BAD INTERNET MEMES...All over the place. The main language is english. The citizens typically cannot read, although if they could, one would find that the street signs are generally written in Internet lingo and or 1337. People survive off canned goods once or twice a week, and being unemployed is more common than being employed. If you happen to have a job, probability dictates you work as one of the Guards. Basically the Guards serve as the things that keep the government from running out of victims. But..that's a tale for DDS.
There are three main subdivisions of the city:
The Brownstones- 'wealthiest' section of the city, closest to the heart of Auda and the governmental building. Also most likely to be on fire, as a result of proximity to the government building. They are hideously drab, ill-repaired rowhouses, tightly packed along horrifyingly narrow streets. It would not be unusual to have all your windows boarded here...or really anywhere in the city. If you live here...you have to beable to afford the property tax, even if you OWN your house. You are also probably better fed than the rest of the city. CONGRATS!
The Burnout District- Next closest to the city, and you could call this the middle class. Aptly named...the whole place is constructed on burnt down rowhouses, out of the rubble. You would walk like 15 blocks from here to the government building. Probability of owning your own shrinebox decreases, and the idea of eating even every other day is low. You also have to pay taxes. The burn out district is one of the two districts really affected by the Duct Tape tax hike. Duct tape is intregal to keeping your house standing, in most cases.
The Cardboard Slums- Well...Sort of exactly what it sounds like. PRFOUNDLY AFFECTED by the duct tape taxes, as the housing units here are composed primarily of duct tape, corrugated aluminium and of course cardboard. The cardboard slums tend to operate somewhat independantly in faction form within the government of Auda, to try and compensate for their dire lack of materials. Probability of having a shrinebox IN YOUR BLOCK...slim.
HOW THE INTERNET WORKS: AN INFORMATIVE GUIDE
Your house may have a shrinebox.
This is the only way you can interact with the internet...As the internet is worshipped as a god.
The internet is also heavily regulated under the regime of Mr.Face, and as such, using it has become unwieldy and costly.
This is, however, how 99% of materials are aquired.
Different coding languages are more effective than others, and as such, the wealthier you are at the start, the more likely that you got at least some school before the school system collapsed, and know an effective coding language. (More on this as need arises.)
Memes and the like are tossed around as actual vocabulary...Again, more as the need arises.
How to use:
Get object of equal value to the object you want to obtain from the Internet.
Code object with appropriate coding language and stick in shrinebox.
Recieve the object you asked for in the code for a measly 25% tax from the internet warehouse 3-5 buisness days later.
RELEVANT HISTORICAL FACTOIDS:
From this point in time, Mr.Face has been running the government for 30 years. He usurped the monarchy essentially by holding a revolution...The monarchy sucked...however...Mr.Face isn't an improvement in any way.
The school systems collapsed 14 years ago.
The duct tape tax (16% on all duct taped products and the rolls themselves) has been employed for about 6 months.
The Internet- Shrinebox system was rerouted by Mr.Face 26 years ago, so realistically, some of your characters will have no idea that it ever WASN'T rerouted to the Internnet warehouse.
Incendiary punishment for property tax evasion imposed as law 20 years ago. (They will kill you with fire, and burn down your house, too.)
Food taxes imposed 24 years ago...Many people do not remember a time when there was no rationing.
TAX INFORMATION:
Income tax: 60% of income.
Income --> Income after tax
1,140 --> 456
1,000 --> 400
900 --> 360
800 --> 320
700 --> 280
And that covers all the cellblock positions. The guard monthly minimum is 500, which is what you start out being paid as a newb.
Food tax: 25% of price of food. Here's a cheat sheet:
Expired cans: Untaxed- 4 Taxed- 6
Unexpired cans: Untaxed- 12 Taxed- 16
Duct tape tax: 16% of price of duct tape.
Internet warehouse withdrawal charge: 15% of value of object
Property tax: 25% of value of lot. Ok. So here's the breakdown for that By district:
Brownstones: 200 rectangles monthly
Burnout district: 100 rectangles monthly
Cardboard Slums: 50 rectangles monthly
OTHER MONETARY INFORMATION:
The monetary unit: Rectangles.
What it's worth: 16 rectangles covers payment plus tax of one can of unexpired food.
Your income: Varies based on your rank within the Guard. If you don't mind the unfortunate implications of working in cellblock five fulltime, then you make 1,140 a month. This is the vertical pay limit.
Cellblock 4 pays 1,000 monthly.
Cellblock 3 pays 900 monthly.
And it continues downward from there, logically, as seen above in the TAX INFORMATION section.
INCENDIARY TAX COLLECTION:
This is a job option, although somewhat more...pyromaniacal in nature. And also, There are less of them, since blatant property tax evasion is...actually a less common occurance than petty theft or food tax evasion.
The description: You burn down things built on property that has not been paid off. Ideally with the tax evaders inside. That's...about it, really.
The pay tier proceeds as such:
Cardboard Slums: 500 Rectangles --> After tax: 200 monthly.
Burn Out district: 700 Rectangles --> After tax: 280 monthly.
Brownstones: 900 Rectangles --> After tax: 360 monthly.
SOME SURFACE FEATURES:
GOVERNMENTAL BUILDING GEOGRAPHY:
WEST WING: Largely unlit, as a result of being Mr.Face's private quarters. He does not need the light...so, why bother with the additional power bills?
PRISONS: In the east wing...MORE INFO WILL BE PROVIDED IN DEPTH LATER.
FRONT OF THE BUILDING: Home to a large lobby with two sweeping staircases off to the east and west wings....provided of course you don't get lost in the myriad of completely symmetrical hallways first of course. Mr.Face did this architecturally for HIS convenience. NOT YOURS. Within that front lobby is a big brown box, nailed to the wall, with a button on it. It will read off an assignment aloud when it is pushed.
More on hallways and general looks:
The hallways are all made of stone, they do sustain an echo. The doors are typically really heavy fancy wood, although have a bizarre anachronistic quality to them, due to Internet. They don't all match, style wise. It's clear that they're the fanciest things available, but...yeah. The doors have braille labels on them, along with...well...fractured english labels, even though Mr.Face is the only literate one among them. Beyond the doors, they are all identical. Every single hallway turns on to an equally identical hallway. People have gotten lost in the place. And woe betide those who wander into the West wind while Mr.Face is...there.
Laboratory: Near the heart of the building is Mr.Face's Lab, which houses all of his internet stuff, OS, the real sacrificial table, and miscellaneous other torture devices.
A VISUAL FOR YOUR PLOTTING CONVENIENCE: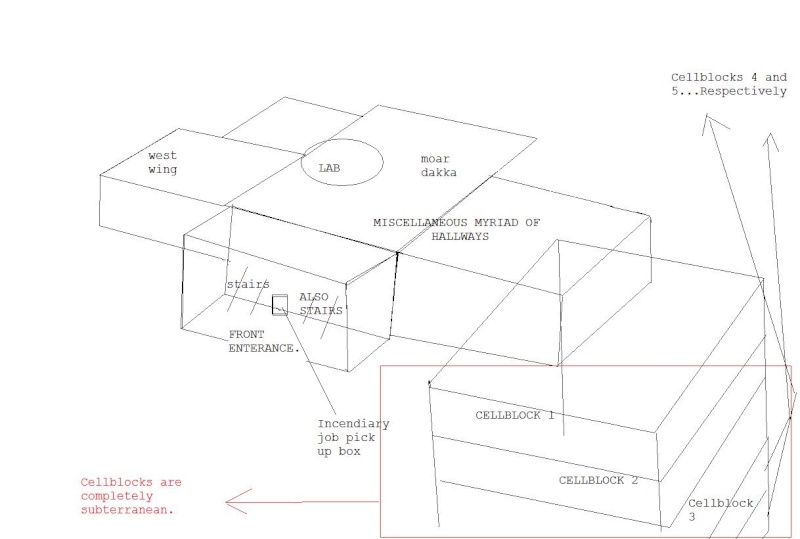 A TENTATIVE AUDIAN COLLOQUIALISM MANUAL:
So. As I have mentioned before, Auda is...really idiomatic in its' language stuff, which is why I was reluctant to put something like this up, but...I realised that there would likely be some wierd blanket language rules that I could put up, and some common phrases to explain, which would hopefully help ya'll out some.
SWEARWORDS AND SUCH- Well, Most four letter words in Auda get translated out to simply 'Expletive'. There are occasional instances of memetic mutation bringing up actual swearwords, however, as with most memes, Audians have NO CLUE where said meme actually originated, and as such, don't pay them much mind.
RELIGIOUS SWEARING- Where we are all accustomed to 'Oh god' or...in some cases 'Oh gods', Audians typically say 'Oh Internet'. Or, alternately, "Oh Ceiling Cat'. This is as a result of the Internet being worshipped AS a god. Ceiling Cat is held as a minor diety...And is considered to be watching over the public at all time.
MISC. OTHER:
-If someplace is known to be rather pleasant, it is compared to Dallas. This is rooted in Peter Chimaera's "Quarter-life: Full life consequences" FanFiction, although, as usual, most Audians do not even know there is such a thing.
-Peter Chimaera in general is quite well quoted, actually...It's strange.
-Bullets= Dakka. Dakka is the more common term. This originates from Warhammer 40K. The most common use of the term? 'I need moar dakka.'
SUBSYSTEM KNOWLEDGE. SINCE IT HAS BEEN REQUESTED.
So, as you may already know, the slums run in factions. There are actual blocks of slums that have organised themselves to redistribute goods for maximum survival gain. It's communisty in nature. In the slums, if you are employed, much of your wealth is redistributed equally among the subsystem, for maximum gain. it doesn't really work well, and most feel cheated out of their own income, but it has it's occasional benefits.
THINGS SUBJECT TO REDISTRIBUTION:
Any education that older people have is shared.
All food is shared.
All water is shared.
Building supplies are given to most needy first, and trickle down.
Duct tape
Money
Clothing
Basically everything that can be shared is.
SHARING LOOPHOLE:
If you were in the slums prior to the installment of Mr.Face as Dictator, you may have hung onto quite a bit of a horde of useless crap, subterranean stashes, or whatever caches your parental units may have stored. Because you were 'FIRST!!! WOOT!!' You are not subject to housing searches, or at least not as closely scrutinised, and are typically permitted to hold on to what was already there, unless it's like...SUPER UBER IMPORTANT. f you had a shrinebox for example...YOU WOULD HAVE TO SURRENDER THAT CRAP IMMEDIATELY as soon as your subsystem head found out.
SUBSYSTEM HEADS.
Subsystem neads run the technicals of their subsystem. They are in charge of redistribution of goods, faction maintenence, problem solving...all kinds of crap. Although, this is an unpayed job, because Mr.Face does not acknowledge that the factions even exist. He is actually completely unaware. You run the day to day stuff. You would go make the water runs when there is enough money to pay the water fee. You go into town and buy food, typically, unless someone employed in your faction is already in town. You are most likely to own a shrinebox out of the whole faction. You try to intervene with guards, and are most likely to be put in the lower cellblock for interference with incendiary tax collecting.
(Note, due to closeness of housing in the slums, incendiary tax collecting can cause faction wide destruction of housing. This is why you try to intervene on people's behalf.)
So...that should start you off I think...OOH. Character sheets. RIGHT.
Name:
Age:
Where do you live?:
Appearance: (Please note- Being emaciated is TYPICAL OF THE WORLD. AS IS PALENESS. Continue.)
Personality:
Employed?:
Relevant other Information?:
Name: T.Morbid Namechov
Age: 22? ish?
Where do you live?: Brownstones. Trying to convince sister to downgrade to alleviate economic stress.
Appearance: About 5'6"...quite thin....cuts his own black hair...Grey eyes.
Personality:....AWKWARD. GUILT-RIDDEN. WELL MEANING...but constantly conflicted over his situation.
Employed? Yes. Just got a promotion.
Relevant other Information?: uhm...not at the moment no....
Name:Mr.Face
Age:70
Where do you live?: In the West Wing
Appearance: 8 feet tall, faceless except for a mouth filled with pointy, pointy teeth. actually paper coloured. Like...straight up...WHITE. Dresses in buisiness suits and has a pair of Armani loafers.
Personality: Well...he's a sociopathic dictator. And he tortures for the lulz. YOU TELL ME.
Employed?:Yes. Dictator of Auda.
Relevant other Information?:Agoraphobic like you wouldn't believe. also...Blind. He echolocates. Like a Dictator.
If other things become necessary I will post them, and make an edit indicating where the information can be found.
Last edited by V on Sun Sep 18, 2011 11:39 am; edited 1 time in total (Reason for editing : PICTURE RESIZING! FOR THE WIN!)
New Recruit




Posts

: 80


Points

: 106


Join date

: 2011-09-16


Age

: 25


Location

: Unpacking the Alliterated Armoury



Name: Aliyah
Age: 16
Where do you live?: The Brownstones
Appearance: She is short and small, neon blue hair and almost jade colored green eyes. Very thin and normally pale.
Personality: She's a quiet girl but has a very bad temper. Takes a lot to make her smile, although you make get a smirk when she thinks you're acting stupid. Has a very low toleration of joking around and such, is a pretty serious person.
Employed?: Yes, cell four
Relevant other Information?: N/A
New Recruit




Posts

: 184


Points

: 196


Join date

: 2011-09-16


Age

: 23


Location

: Wherever mah ninjaness takes me!



YAYAYAYA THIS IS ME POSTING FOR THE FIRST TIME HI WORLD I LOVE YOU ALL...

May I reserve a spot in this?
New Recruit




Posts

: 15


Points

: 13


Join date

: 2011-09-17


Age

: 22


Location

: In some corner of my mind



New Recruit




Posts

: 80


Points

: 106


Join date

: 2011-09-16


Age

: 25


Location

: Unpacking the Alliterated Armoury





Similar topics
---
Permissions in this forum:
You
cannot
reply to topics in this forum